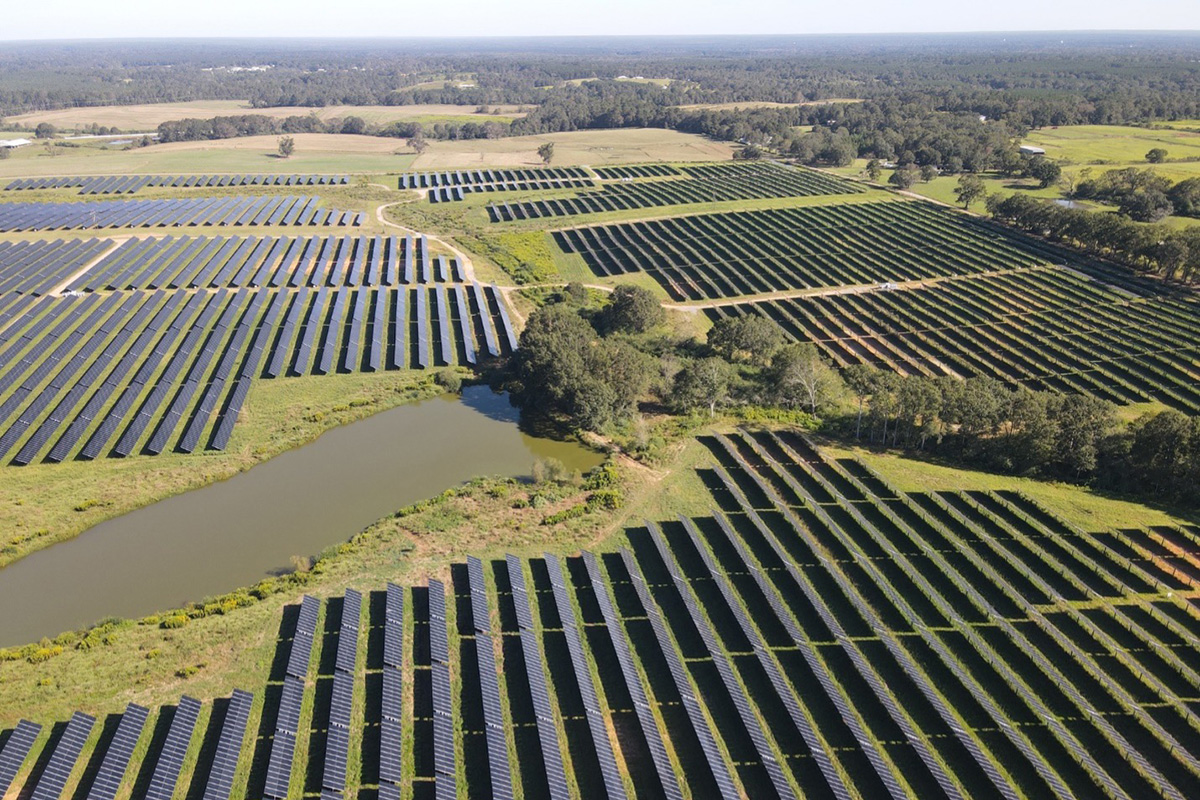 Solar Facilities
Entergy New Orleans customers are now benefitting from a new, clean energy resource to power their homes and businesses with the completion of the Iris Solar facility. The 50 MW site is located in Washington Parish and comprises approximately 187,000 solar panels. The St. James Solar project in St. James Parish adds another 20 MWs to Entergy New Orleans' generation portfolio. Additionally, the New Orleans Solar Station covers approximately 90 acres of flood-protected property at NASA's Michoud Assembly facility in New Orleans East, providing 20 MWs of clean energy.
Commercial Rooftop Solar
The Commercial Rooftop Solar program was approved by the City Council to add up to 5 MW of distributed solar resources in the City.  In 2020, the largest commercial rooftop solar project in Louisiana was completed on TCI's warehouses near the Inner Harbor Navigation Canal in New Orleans. Approximately 7,000 solar panels cover nearly 240,000 square feet of rooftop space, contributing 2.4 MW of clean energy into the Entergy New Orleans electric distribution grid to benefit all customers.  The program was fully subscribed, with another 2.6 MW installed across several large customer sites.  All of the power produced by these systems goes to the grid to serve ENO's customers throughout the City.
Residential Rooftop Solar Program
The Residential Rooftop Solar Program, ReNEWable Orleans, is a simple and straightforward way for New Orleans customers to participate in the benefits of distributed renewable energy. There are 100 homeowners currently participating in the program, and additional applications are not currently being accepted.
The participating customers allowed Entergy to install a utility owned and operated solar panel system in exchange for a $30 credit every month. Entergy stands behind the installation quality as well as handles all maintenance for the systems. The system connects directly to the distribution grid, providing clean energy to the community.

Entergy will remove and reinstall the system one time for roof repairs with a 90–day notice.
New Orleans City Council Community Solar Program
New Orleans residents and businesses interested in participating in community solar projects can do so through the New Orleans City Council's Community Solar Program, which is designed to provide an additional renewable energy option to New Orleans electric customers. 
As described in Council Resolution R-19-111, the City Council's Community Solar Rules ("Rules") establish the rules, policies, and procedures for Community Solar Generating Facilities and their associated subscriptions in Orleans Parish. Developers and Subscriber Organizations of community solar projects are required to meet all eligibility requirements and must adhere to all applicable safety and reliability protocols. Entergy New Orleans, LLC ("ENO") is required under the rules to administer the Council's Program and the Council Utilities Regulatory Office ("CURO") is required to investigate, and impose penalties for, violations of the Rules.
The Council's Community Solar Rules can be found here.
Subscriber Organizations interested in participating in the Program must first register with CURO. After registering, a Subscriber Organization must submit their application to ENO through the following procedure:
Initial Application Forms (Required to begin review process):
Program applications will be reviewed by ENO in the order that they are received. Completed application forms should be emailed to NewOrleansCouncilCommunitySolar@Entergy.com. An ENO representative will reach out to confirm receipt of the application within 10 business days as described in the Rules. For more information, please review the Application Flowchart & Timeline document below.
CSG-2 – Interconnection Application
Additional Application Forms (Upon approval of Interconnection Application):
If both the Program Application and Interconnection Application reaches approval, ENO will contact Subscriber Organizations to begin execution of the following application forms:
CSG-3 – Interconnection and Operation Agreement
CSG-4 – Standard Offer Power Purchase Agreement
CSG-5 – Initial CSG Facility Subscription Report
CSG-7 – Monthly CSG Facility Subscription Report
CSG-8 – Subscriber Agency Agreement
Additional Reference Documents:
Updated Entergy Distribution Standard DR07-01
Application Flowchart / Timeline
CSG-6 - CSG Facility Customer Notice of Enrollment